Shepard Fairey has been a well-known artist around the world. His "Andre the Giant Has a Posse" sticker was his first success. This transformed into the OBEY GIANT campaign, which changed the way people view art and the urban environment. He gained worldwide recognition in 2008 with his Hopeposter of Barack Obama. His stickers, guerrilla street art presence, and public murals are recognized worldwide today. Fairey's work is in the permanent collections MoMA and the Museum of Fine Arts Boston. The San Francisco Museum of Modern Art and the Smithsonian National Portrait Gallery are among others. More than 105 murals of large scale have been painted on five continents, including Dubai, where he had his first solo exhibition in the Middle East.
Shepard Fairey created his inaugural HTMLFT work on March 29, in an exclusive partnership with Verisart. This was part of 10×10: 10 initial NFTs from 10 major contemporary artists over 10 weeks . SuperRare is open for bidding until 3:00 PM EDT April 1.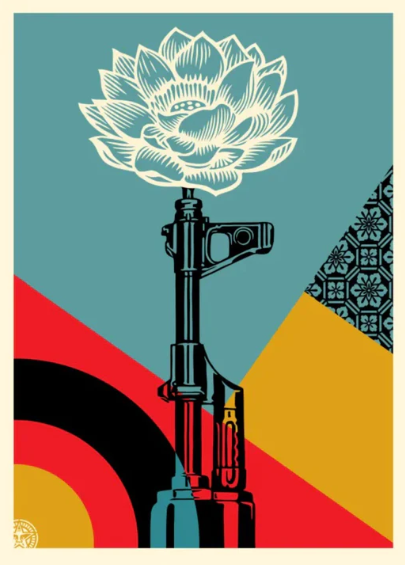 Incarnations to Power
Fairey's initial NFT is an evolution from a mural he created in the real world for the 2017 Library Street Collective show called "Damaged". This work explores the many incarnations power. The artist says, "Art has power." Art can be used to raise awareness about important social and political issues. There are many ways to power and it can be embraced or feared, depending on who it benefits, who it oppresses and who it lifts up, and who it is used by.
Fairey says, "The Obey Ideal Power Mural explores various forms of power and asks viewers to consider both the negative effects of certain forms and the benefits for the environment and social aspects of other forms. Ideal power, to me, does not corrupt democracy or destroy the environment. It empowers the oppressed and cultivates equality. It honors truth and works in harmony within nature. The Obey Ideal Power mural aims to encourage an honest assessment of power and to encourage people to appreciate power that supports and sustains their ideals.
Art as a force for good
Fairey wants his art to be a force for good in many ways. The artist is also keen to raise awareness of social and political issues. Shepard Fairey personally will donate a portion of his first NFT art drop to Amnesty International via Verisart's Fair Trade Art Certificate.
Fairey explained that she donated a portion of her proceeds to Amnesty International in order to help them with their important human rights work. Collectors can find out what charity the work supports by using the Verisart Fair Trade Art certification.
Shepard Fairey Art has her NFT certified with a Fair Trade Art Certificate issued by Verisart. This award-winning platform for blockchain certification is a top choice. Fair Trade Art was created by Verisart to unite artists and social impact organisations to achieve good. The certificate indicates that the proceeds from the sale are going to charity.
The digital certificates are intended to give artists the tools to tell their story through images, videos, and other documents. Shepard Fairey's certificate contains a video of the artist talking about his work. This video is only available to the certificate owner. Collectors will find Verisart's patent-pending Certificates of Authenticity, (COA), an integral part of their collection of NFTs. They are a guarantee of authenticity and verify the history of the artwork.
Artist and activist
Fairey used his art to examine social and political issues throughout his career. The emblem of the 44th President of the United States of America's election campaign was his iconic "Hope" portrait of Barack Obama. The "We The People" series was created by the artist in collaboration with Amplifier. This nonpartisan campaign aims to spark a national dialogue about American values and identity through public art and story-sharing. These images can be downloaded from Amplifier's site and are easily recognized at Women's Marches around the world.
Fairey uses his art to address current events. Adobe and Fairey collaborated to create downloadable artworks that celebrated the bravery of volunteers and health care workers during the Covid-19 pandemic. Shepard Fairey's art is a combination of strong visual appeal and the ability to spark emotions and stimulate conversations about important topics.
About the artist
Shepard Fairey was a Charleston native. He earned his Bachelor of Fine Arts degree in illustration at the Rhode Island School of Design, Providence, Rhode Island. He created the 1989 "Andre the Giant Has a Posse" sticker, which was later transformed into the OBEY GIANT art program. His work is now a renowned body of art. It includes the 2008 "Hope" portrait of Barack Obama at Smithsonian National Portrait Gallery.
His works are part of the permanent collections of Boston Institute of Contemporary Art and Museum of Modern Art (MoMA), Museum of Fine Arts Boston and San Francisco Museum of Modern Art.